Notes and References
NEED A BIBLE? KJV Bible Online
---
Galatians
A TimeOnTheWeb.com Bible Study
Introduction
---
GALATIANS
"The person who can rightly divide Law and Gospel has reason to thank God. He is a true theologian." Martin Luther
Chapter 5
1 Stand fast therefore in the liberty wherewith Christ hath made us free, and be not entangled again with the yoke of bondage.
Stay free! Paul is telling the Galatians to stay free in Jesus Christ! How many of you have heard this verse preached out of context alluding to sin as being the yoke of bondage? This is the farthest thing from the truth!
Yoke of Bondage = Mosaic Law
2 Behold, I Paul say unto you, that if ye be circumcised, Christ shall profit you nothing.
Following the Mosaic Law does nothing for you. It doesn't give you extra blessings from God. It gives you nothing. We have already obtained the promises of Abraham, there is nothing more to be done.
3 For I testify again to every man that is circumcised, that he is a debtor to do the whole law.
If you want to interject any part of Moses Law into Christianity, you must interject it all! If you want a Christians's money and use the laws of tithing and you are using a curse to coerse, you are just like these Judaisers whom Paul says "let them be accursed" and later that they were "cut off". You use the yoke of the law of bondage to drag in finances for your church by extorting God's children with a lie. There is no curse on a believer!
4 Christ is become of no effect unto you, whosoever of you are justified by the law; ye are fallen from grace.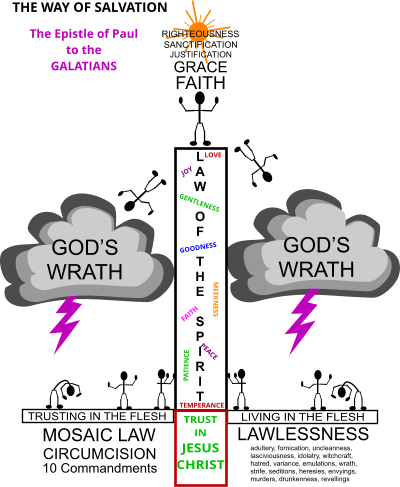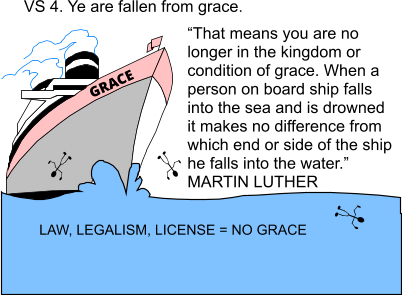 See how Paul is equating circumcision with the Mosaic Law? If you trust in your own good works for whatever reason, you are deceived and have fallen from grace.
5 For we through the Spirit wait for the hope of righteousness by faith. 6 For in Jesus Christ neither circumcision availeth any thing, nor uncircumcision; but faith which worketh by love. 7 Ye did run well; who did hinder you that ye should not obey the truth?
Faith, faith, faith, faith! Have faith!!!!!
8 This persuasion cometh not of him that calleth you.
This is not from the Holy Spirit of Jesus Christ! If not from God, who? Evil workers
9 A little leaven leaveneth the whole lump.
Leaven or yeast is considered an evil in parables and allegories. These Judaisers did not have anything from God to add to the Galatian believers. Their distortions negatively affected the whole assembly. One litte law injected into the body of Christ removes Grace altogether.
10 I have confidence in you through the Lord, that ye will be none otherwise minded: but he that troubleth you shall bear his judgment, whosoever he be. 11 And I, brethren, if I yet preach circumcision, why do I yet suffer persecution? then is the offence of the cross ceased.
Paul again explains if he is preaching circumcision, then why is he still persecuted by Jews? I believe this question came about because Paul still practised Judaism, not because it was necessary as a Christian, but in order to preach to Jews. So this is answering the accusation of Paul still preaching circumcision. The offence of the cross is freedom to believe God has the power to make people righteous, not man.
12 I would they were even cut off which trouble you.
Some scholars say Paul meant for these men to go beyond circumcision and mutilate themselves completely. Others take it as only excommunication. I don't think so. If cut off as is translated, you could mean dead in a physical sense as an amputated limb, or if mutilated according to Mosaic Law would mean their eternal doom or anathema. Either way it is very harsh and severe.
Deut 23:1 He that is wounded in the stones, or hath his privy member cut off, shall not enter into the congregation of the LORD.
cut off = apokopto αποκοπτω G609 cut off or amputate
13 For, brethren, ye have been called unto liberty; only use not liberty for an occasion to the flesh, but by love serve one another. 14 For all the law is fulfilled in one word, even in this; Thou shalt love thy neighbour as thyself.
I was listening to a Jewish rabbi, who is not a Christian, teach on this and found his teaching quite enlightening. Especially his teaching was helpful in understanding the statement of Jesus Christ from a Mosaic Law perspective.
Leviticus 19:18 Thou shalt love thy neighbour as thyself
The idea is reciprocal or one of reciprocity. You don't give and give and give to someone who is unwilling to give back. That is a distorted view of this law. You love your neighbor as much as you would expect him to love you. Do you expect your neighbor to bring you something every time they go shopping? Does your neighbor expect you to buy them something when you go shopping? No!
If you are a demanding person, expect the same be demanded of you. If you are sick, you would expect your neighbor to help you. If your neighbor is sick, you would be expected to help them. If you are always on the receiving end with an attitude of entitlement, you are not loving your neighbor as yourself. You are selfish.
15 But if ye bite and devour one another, take heed that ye be not consumed one of another. 16 This I say then, Walk in the Spirit, and ye shall not fulfil the lust of the flesh. 17 For the flesh lusteth against the Spirit, and the Spirit against the flesh: and these are contrary the one to the other: so that ye cannot do the things that ye would. 18 But if ye be led of the Spirit, ye are not under the law.
Paul now is delving into the description of the base corrupt nature of all humans verses the nature of God. The Holy Spirit will guide you away from the desires of the corrupt nature. As believers we must be led of the Spirit. Paul also is unique in describing believers as the body of Christ. A body does no harm to itself.
19 Now the works of the flesh are manifest, which are these; Adultery, fornication, uncleanness, lasciviousness, 20 Idolatry, witchcraft, hatred, variance, emulations, wrath, strife, seditions, heresies, 21 Envyings, murders, drunkenness, revellings, and such like: of the which I tell you before, as I have also told you in time past, that they which do such things shall not inherit the kingdom of God.
Here is a list describing the basic corrupt human condition, without God and without hope. Paul is specifically talking about those who are not believers and this is the fruit of their unbelief. The modern church has a good way of scaring people into thinking if they slip up, it's all over, no more inheritance. They are going straight to hell. Envy - isn't that a good one to focus on? Strife - how about that one? Are they not in the list with adultery and drunkenness? Isn't it so easy to pass judgment on the obvious?
22 But the fruit of the Spirit is love, joy, peace, longsuffering, gentleness, goodness, faith, 23 Meekness, temperance: against such there is no law.
Here is a list describing the nature of God. This nature which is now our new nature will begin to bear this fruit. Those who are in Christ should have some sort of the nature of God shining through. Is it always evident all the time? So if the base nature is not always evident and the new nature is more evident, are not we still the children of God with flaws?
24 And they that are Christ's have crucified the flesh with the affections and lusts. 25 If we live in the Spirit, let us also walk in the Spirit. 26Let us not be desirous of vain glory, provoking one another, envying one another.
Vain glory, how true is that? These Judaisers wanted to be glorified in their pseudo-wisdom, puffed up in their own pride, wanting the preeminence over Paul. They were causing division in the church at Galatia, causing some to fall from Grace and into the vanity of following Mosaic Law to their own destruction.
Hebrews 6
4 For it is impossible for those who were once enlightened, and have tasted of the heavenly gift, and were made partakers of the Holy Ghost, 5 And have tasted the good word of God, and the powers of the world to come, 6 If they shall fall away, to renew them again unto repentance; seeing they crucify to themselves the Son of God afresh, and put him to an open shame.
Going back to Mosaic Law is exactly what this scripture in Hebrews is referring to, not sin, not the works of the flesh, but legalism and self-righteousness.
Paul's letter is written to ensure that Christians hold fast to his gospel which is faith alone in Jesus Christ who brings justification, righteousness, salvation, and everlasting life.